Posts for tag: gum disease
By Chattanooga Periodontics & Dental Implants
February 05, 2017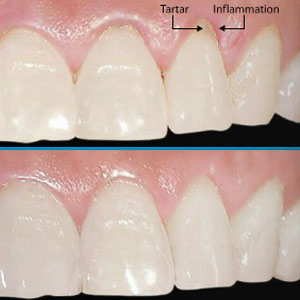 Periodontal (gum) disease is an aggressive bacterial infection caused by built-up plaque on tooth surfaces. Gum disease results in bone loss and causes loss of attachment from the teeth, leading to eventual tooth loss.
The goal of any gum disease treatment is to remove as much plaque and calculus (hardened deposits of plaque) from the gums and teeth as possible. Scaling with special hand instruments or ultrasonic equipment is the basic technique for plaque and calculus removal above and below the gum line. As the infection spreads below the gum line, it can widen the natural gap between teeth and gums to form voids known as periodontal pockets that fill with infection. Accessing and cleaning these pockets, which can occur as deep as the tooth roots, will require more invasive procedures.
Pockets that form at a depth greater than 5 mm below the gum line will most likely require surgical access through the gum tissue. But for pockets not quite that deep there's an intermediary technique called root planing without surgical intervention. As the name suggests, the roots are physically "planed," much like shaving a wooden board to remove minute layers of wood.
Using similar instruments as with scaling, root planing removes calculus, bacteria and other infected matter adhering to the root surfaces. It's best to perform the procedure with local anesthesia to numb the gum tissues, which may be quite sensitive depending on the degree of infection. Working in a pain-free environment also helps us to be as thorough as possible in detecting and removing every bit of plaque and calculus we can find.
In advanced cases, it may be necessary to perform this procedure during multiple visits. As plaque and calculus are removed the inflammation in affected tissues will begin to subside, revealing more deposits of plaque and calculus. It's also important to begin and maintain a daily habit of effective brushing and flossing to lessen the chances of a recurring infection.
Treating gum disease is an ongoing effort that requires constant monitoring and sustained efforts to remove plaque and calculus, including root planing. Saving your teeth, however, is well worth the effort.
If you would like more information on treating periodontal disease, please contact us or schedule an appointment for a consultation. You can also learn more about this topic by reading the Dear Doctor magazine article "Root Planing."
By CHATTANOOGA PERIODONTICS & DENTAL IMPLANTS
January 17, 2017
Gum disease affects half of American adults, according to the Centers for Disease Control and Prevention. Luckily, there are a few things
you can do to decrease your risk of developing the disease. Dr. Charles Felts and Dr. Elizabeth Felts Randall, your Chattanooga, TN, periodontists at Chattanooga Periodontics & Dental Implants, share information on the types of gum disease and explain how you can avoid becoming another statistic.
Gum disease types
Gingivitis, the mildest form of gum disease, is often ignored because it doesn't cause dramatic symptoms. If you have gingivitis, your teeth may bleed when you brush and floss, and you may notice that your gums are red and swollen. Unfortunately, if you don't take steps to reverse the disease, it can turn into periodontitis, the more severe form of gum disease.
Periodontitis can cause receding gums, bad breath, tooth sensitivity, an unpleasant taste in your mouth, loose teeth and a change in the way partial dentures fit. You may also notice that your gums have pulled away from your teeth, creating pockets that harbor bacteria. Bone and tooth loss can occur if you have periodontitis.
How can I prevent gum disease?
Brush and Floss: Good oral hygiene is the best way to avoid gum disease. Brushing and flossing, daily, removes bacteria-laden plaque. If plaque remains on your teeth long enough, it turns into a hard deposit called tartar. Tartar buildup causes receding gums and pockets.
Don't Skip Dental Visits: Because tartar can only be removed with special dental instruments found at your Chattanooga, TN, dentist's office, it's important to not skip your twice a year cleanings. If tartar has begun to cause gum problems, you may benefit from a deep cleaning that removes tartar from below the gum line.
Replace Poorly Fitting Crowns: Crowns that don't fit well make it difficult to clean around your teeth, which can lead to tartar buildup.
Quit Smoking: Smokers have a higher risk of developing gum disease. Quitting smoking is a simple way to decrease your risk.
If you do develop gum disease, periodontists offer a variety of treatments that can help control the infection. Call your Chattanooga, TN, periodontists at Chattanooga Periodontics & Dental Implants, at (423) 756-2450 to schedule your appointment.